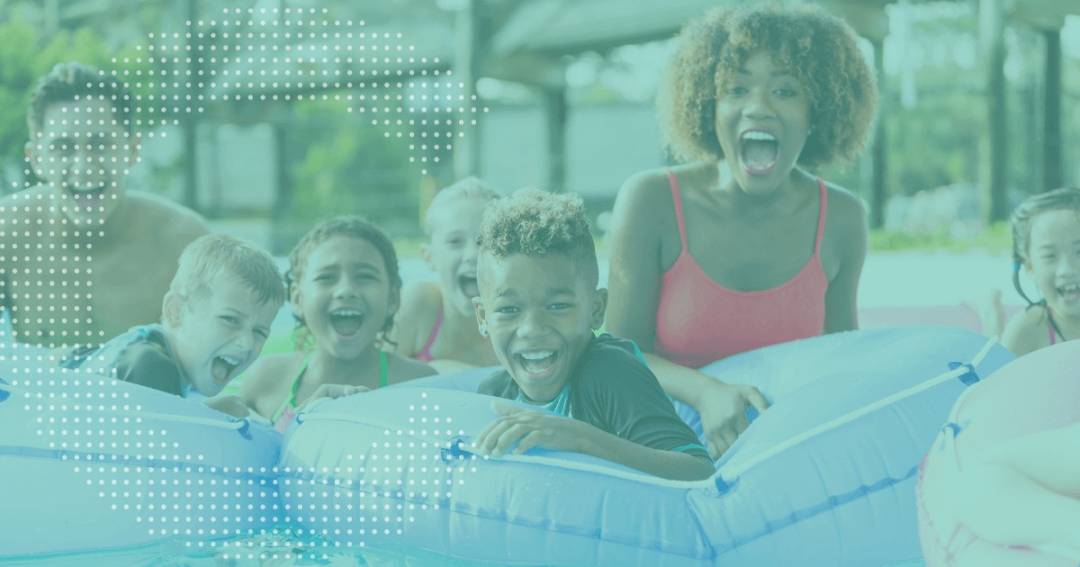 The end of the water park season marks a well-deserved break for you and your dedicated staff. This relentless 100-day sprint extracts a heavy toll on even the most dedicated of operation teams. By the time September rolls around, your team is more than ready to seek refuge in the comforting embrace of a quiet, dimly lit sanctuary far away from the sparkling blue water of your waterpark's wave pool. The constant hustle and bustle, on top of the unyielding demands of ensuring guests' safety and enjoyment, added to the unrelenting pace of the summer has understandably left them physically and mentally drained. 
However, the off-season is not just about rest; it's a crucial period for planning and addressing operational and technology challenges from the season while they're still fresh in your mind. Let's delve deeper into how you can strategically utilize this downtime to prepare for a more efficient and profitable next season! 
1. Staffing Solutions for 2024
The impending staffing crisis of 2024 looms large, but it's not insurmountable. The global staffing "issue" we are currently facing may never be fully resolved, but it can be mitigated. Leaning into fully integrated and connected technology can save your team from having to fill their days calming long lines of frustrated guests who are looking to purchase tickets, redeem benefits, and enjoy all the attractions your waterpark has to offer.  
Connect&GO offer venues cloud-based technology that gives your guests everything they need prior to the visit, all accessible through an RFID wristband when they arrive. With our Konnect operations management platform, you can offer your guests a completely integrated experience, starting with a modern eCommerce site that makes it easy to purchase tickets, renew season passes, add cashless funds, and so much more!  
Once your guests arrive onsite, they can access everything they need through their Virtual Wallet stored on their wristband. With a simple tap, they're on their way to purchasing F&B, retail and rental items, accessing tickets, using passholder benefits and so much more. Everything is stored in the cloud and made available to your team in real-time! 
Help relieve your Guest Services staff the stress of disjointed systems and complicated processes so they can help where they really are needed throughout the season. Fewer Guest Services and Front Gate personnel will enable you to place your human resources where they are most needed- inside the park creating unforgettable experiences for your guests! Aren't you already feeling better about next year?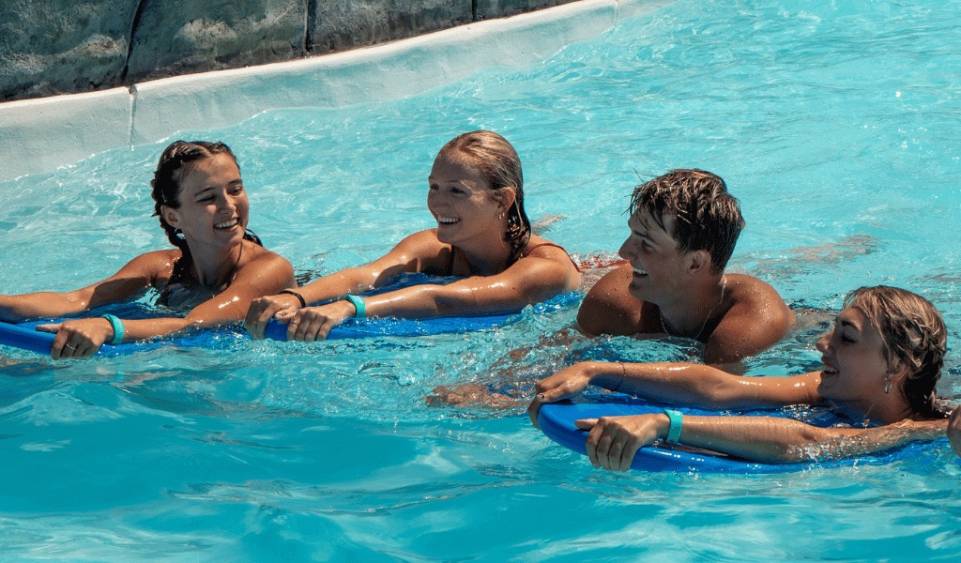 2. Increasing Revenue with Cashless Solutions
Imagine increasing your waterpark's revenue by up to 25% more next season! Give your guests the option to spend money on food & beverage or in your retail stores without having to carry around cash or cards in their soaking wet bathing suits. Having all their account information and cashless technology at the simple tap of a wristband could be the answer you are looking for. Connect&GO provides guests with a virtual wallet to store payment methods, cashless benefits, tickets, waivers, and more, all accessible through waterproof RFID smart wearables!  Eliminate roadblocks that get in the way of purchasing, like that long journey back to the locker.   
It's never been easier for parents to look at their kid's account from home and add money when the balance is being depleted throughout the day. Our Virtual Wallet technology also allows families to go their separate ways throughout the day while still ensuring that everyone has money to get a meal or purchase souvenirs. Try incentivizing cashless spending by offering a small discount on large purchases, bundle packages that include cashless and tickets, and so much more. The possibilities for revenue growth are almost endless! 
3. Efficient Guest Flow Management
Long lines are a universal guest experience pain point. At the end of the day, you know a happy guest is one who moves quickly and spends more time engaging in the fun rather than waiting in lines.  
Mobile Point-of-Sale (POS) systems are crucial to expedite and alleviate major pain points throughout the in-park sales funnel. There's no better feeling on a busy day at the waterpark than reducing lines to allow your guests more time to enjoy more rides or relaxing by the wave pool! The Konnect Mobile Point-of-Sale allows operators the ability to efficiently bust lines. Your team can easily sell and fulfill wristbands, check balances and reload cashless funds from virtually anywhere in your park.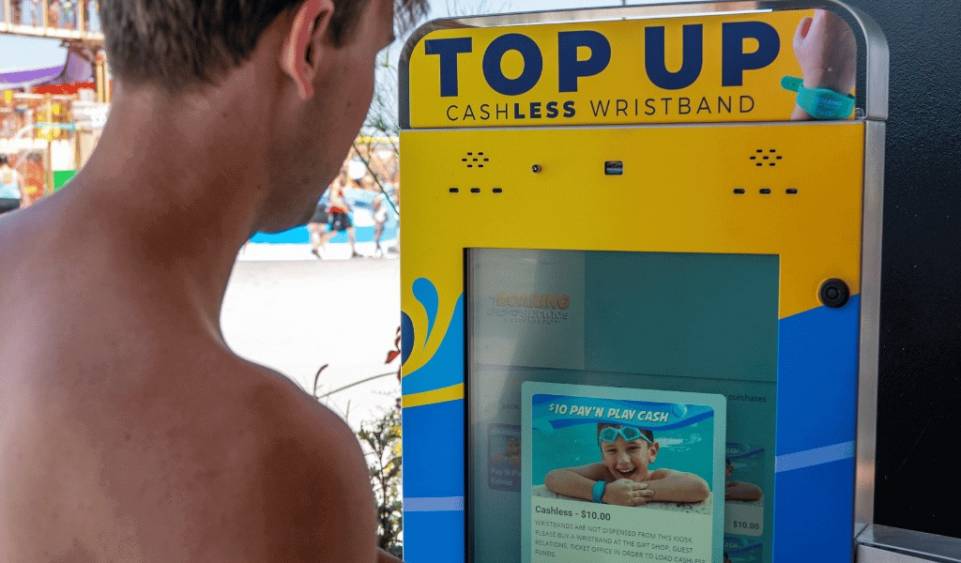 4. Embrace Technological Solutions
As you reflect on the successes of summer 2023, it's essential to evaluate whether your current technology aligns with your future growth plans. If it doesn't support your future revenue growth or is creating more pain points than it relieves, now is the time to start looking into making a switch. Breathe new life into your operations with a technology partner that understands your unique needs based on the 100-day seasonality of waterparks. Start 2024 by reenergizing your operations, taking control of your data, giving your guests control of their experience, and allowing your staff to help control what they do best- helping guests make long-lasting memories. Springboard into your best season yet with Connect&GO's fully connected solution that gives your team access to real-time data. 
5. Schedule a Personalized Demo
As you sit and ponder all the successes that just concluded from the comfort of your air conditioning, you just can't help but think about the complexities of the year ahead.  While all of your problems will not be solved with a change of software and you won't be stress-free at the flip of a switch, what you can count on is a platform that will see 99.9% up-time, virtual wallet technology that will allow your guests to be more independent and spend money more simply, a truly integrated system that will give you the ability to move guests quickly and maximize your ROI with real-time data, and a support team that views you as a true partner.  
So, "water" you waiting for? Book a personalized demo with Connect&GO to explore how our Konnect platform can benefit your park! Let us guide you on a journey toward a more efficient, profitable, and guest-focused 2024 season. It's the first step in ensuring your park remains competitive and continues to provide unforgettable experiences. 
In conclusion, the water park off-season is a valuable opportunity to not only recharge but also strategically prepare for the challenges and opportunities of the next season. Connect&GO's innovative technology solutions can play a pivotal role in achieving these goals. Schedule a demo today and embark on a journey toward a successful and efficient 2024 season. Book a personalized demo with our team here.