Roaring Springs Waterpark and Wahooz Family Fun Zone Partner with Connect&GO to Create Next-Generation Experiences for their Guests
September 6, 2022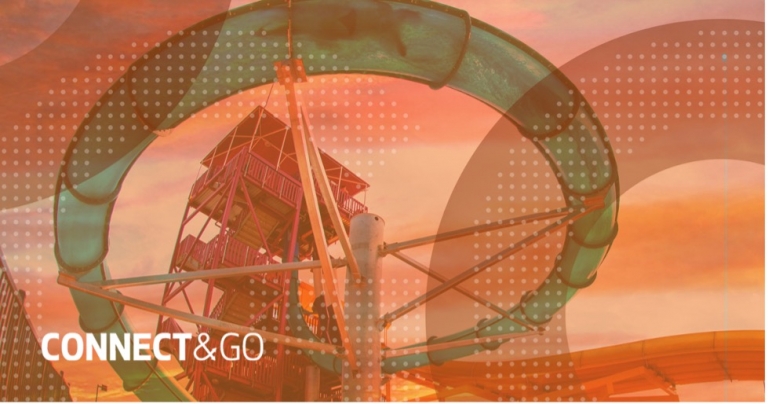 The Northwest's largest waterpark and family entertainment center have selected to utilize Connect&GO's all-in-one management platform ahead of their massive expansion.
 
September 6, 2022 – Montreal, Quebec – Connect&GO, a world leader in integrated attractions management solutions and RFID technology, announces their partnership with Roaring Springs Waterpark and Wahooz Family Fun Zone to implement their Konnect all-in-one attractions management platform. Both attractions will be using the highly flexible and integrated Konnect platform to enhance the guest experience and streamline operations ahead of their large expansion.
Located in Meridian, ID, Roaring Springs Waterpark is the largest waterpark in the Northwest United States and features attractions for every member of the family including a wave pool, an action river, two family raft rides, a bowl slide, a four-lane racing slide, tube slides, a kiddie play area and a 360-looping waterslide called Corkscrew Cavern. The park recently announced a seven-phase expansion plan over a 5 year period that will make it one of the largest waterparks in the United States.
Right next door to Roaring Springs, Wahooz Family Fun Zone offers over 15 attractions including a two 18-hole mini golf courses, laser tag, a large arcade with over 80 games and a 24-lane bowling alley. The facility also includes a large event venue called Galaxy Event Center that hosts a variety of corporate and social events.  
"We are excited to start this partnership with Connect&GO and be able to provide our guests with a fully connected experience across our properties," said Patrick Morandi, CEO of Roaring Springs Waterpark and Wahooz Family Fun Zone. "The Konnect platform provides so many ways for us to simplify our operations and gives us full control over our own system which will alleviate a lot of pain points for our team."
Both Roaring Springs and Wahooz will be using the Konnect platform along with RFID wristbands, self-serve kiosks and flexible access control options to create a next-generation guest experience that reduces friction while maximizing guest engagement. Unlike other platforms that store guest data from eCommerce and point-of-sale in separate places, Konnect integrates eCommerce ticketing, point-of-sale, cashless, F&B, access control, waivers and more into one centralized platform with real-time data.
Additionally, Roaring Springs will be using Konnect's mobile food & beverage integration that allows guests to preorder food on their phones for pick-up or delivery to their cabana. Wahooz will utilize the platform's Intercard integration that provides a streamlined arcade experience where guests can use their connected RFID wristbands to play games.
Both facilities plan to utilize Konnect's Marketing and CRM integration, powered by ActiveCampaign. Connect&GO is one of the only all-in-one management platforms to offer this unique partnership with ActiveCampaign, which allows attractions to deliver personalized communications with real-time eCommerce data.
"We are thrilled to partner with Roaring Springs Waterpark and Wahooz Family Fun Zone to create a truly connected guest experience across their waterpark and family entertainment center," said Dominic Gagnon, Connect&GO CEO. "We are committed to helping them utilize next-generation technology to empower their operations and create more opportunities to grow."
Connect&GO recently closed its Series A funding round with $17 million raised and has made a number of strategic hires this year, including IAAPA Board Member Ted Molter, as it continues on its ambitious growth plan to double revenue and number of installations each year across the United States, Canada and Europe.
To learn more about Connect&GO, visit www.connectngo.com.
About Connect&GO
Connect&GO is a global leader in guest and attractions management technology with the most flexible and easy-to-use operations management platform for the attractions industry. Our all-in-one management platform seamlessly integrates eCommerce, point-of-sale, food & beverage, RFID access control and cashless payments using our Virtual Wallet to give you all your data in one place. We help you drive revenue and maximize guest engagement with valuable data insights all in real-time.  Connect&GO serves amusement and water parks, family entertainment centers, zoos & aquariums, festivals, and live events around the world to integrate easy-to-use wearable technology into incredible experiences.
To learn more, visit: www.connectngo.com
For more details, or to arrange an interview, please contact:
Katie Reilly, Director of Marketing
---