Connect&GO Launches the Next-Generation Konnect eCommerce Ticketing Platform
July 6, 2022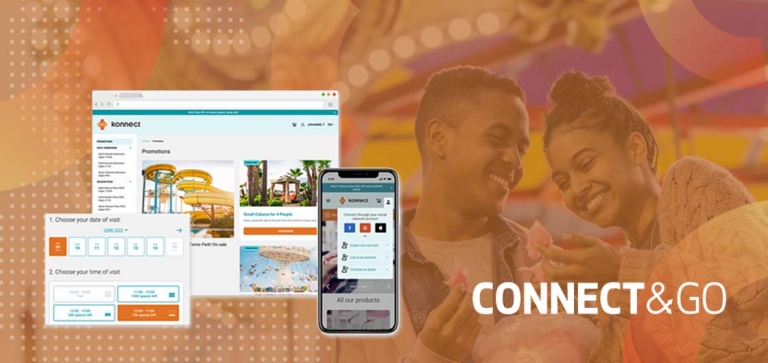 July 6, 2022– Montreal, Quebec – Connect&GO, an industry leader in integrated attractions management solutions and RFID technology, announces the newest update to their Konnect all-in-one management platform: Konnect eCommerce Ticketing (v2). Konnect eCommerce Ticketing is a next-generation omnichannel platform that features a modern design and robust self-service functionality to help attractions simplify operations and drive revenue growth. 
The newest enhancements in Konnect eCommerce Ticketing (v2) include an all-new eCommerce storefront with a mobile-first design and improved purchasing flow, an updated display for calendar-based pricing, and a clearly organized "My Account" view for guests. Additionally, users can configure automated up-sells and cross-sells, create special packages and pricing, modify pricing, and customize site content (including imagery, colors, custom messaging and more).  
"We're passionate about helping the attractions industry take the next step forward with eCommerce and connected systems," said Dominic Gagnon, CEO of Connect&GO. "After many months of research, development and testing, we are thrilled to introduce the industry to the next generation of eCommerce ticketing with Konnect." 
Like Konnect's original eCommerce offering, Konnect eCommerce Ticketing (v2) is part of a completely integrated ecosystem: the Konnect all-in-one attractions management platform. Konnect allows operators to manage inventory from online and onsite POS (point-of-sale) channels in one centralized place, along with access control, cashless payments, waivers, group bookings, F&B and more.  
"Today's guest expects a frictionless experience and that's really hard to deliver with fragmented technology and disconnected systems," said Gagnon. "With our integrated eCommerce and omnichannel ticketing platform, our clients can welcome their guests more efficiently and capture more opportunities for revenue growth."  
One such opportunity is allowing guests to manage more of their account information online, without the need to call the ticket counter or wait in line onsite. With the improved "My Account" view in Konnect eCommerce Ticketing, guests can easily see all their transactional and demographic data, assign RFID media and cashless balances, complete waivers, renew season passes, reload products, access member benefits, reserve cabanas, and configure connected accounts for family members—all ahead of their visit. With real-time communication throughout the Konnect platform, this same transactional data is made available to operators on any device, giving front-line staff all the information they need to welcome guests efficiently.  
"Our goal is to make it as easy as possible for operators to welcome their guests, from the point of purchase to arrival," said Marc-Andre Dube, Director of Product at Connect&GO, "Whenever we can enhance our product to save even just a few minutes of time, we'll look for those opportunities because we know they add up in a major way."   
The new Konnect eCommerce Ticketing is available now. To learn more, visit www.connectngo.com.  
About Connect&GO 
Connect&GO is a global leader in guest and attractions management technology with the most flexible and easy-to-use operations management platform for the attractions industry. Our all-in-one management platform seamlessly integrates eCommerce, point-of-sale, food & beverage, RFID access control and cashless payments using our Virtual Wallet to give you all your data in one place. We help you drive revenue and maximize guest engagement with valuable data insights all in real-time.  Connect&GO serves amusement and water parks, family entertainment centers, zoos & aquariums, festivals, and live events around the world to integrate easy-to-use wearable technology into incredible experiences. 
To learn more, visit: www.connectngo.com 
For more details, or to arrange an interview, please contact: 
Katie Reilly, Director of Marketing 
---