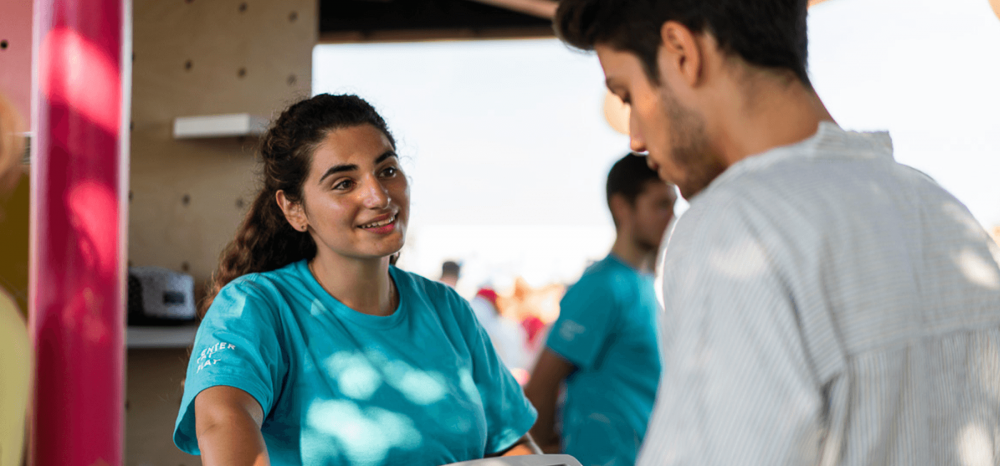 Whether you run an amusement park, water park or family entertainment center – chances are your staff turnover is pretty high. That's simply because these jobs are seasonal and the young people who generally apply for them have a tendency to move around, start school, and more. This means you end up training a lot of new employees each season. Using an RFID solution at your facility can make this step a whole lot easier. RFID is a flexible technology that can be used in sophisticated and creative ways, while still being super easy to deploy. Training new employees will take a fraction of the time if you're using RFID for access control, cashless payments, and experiential activations at your facility.
Ticketing and Access Control
Self-Serve Makes Life Simple
Guests can use self-serve dispensers to purchase and receive their RFID wristbands. If your employees need to offer assistance, they can simply follow the prompts on the dispenser touchscreen to help guests get the package and wristband they want.
Green Means Go, Red Means Stop
Guests scan their RFID wristbands at the entrance, and your employees simply need to look for the indication given by the small light on the portal or the prompt on the handheld scanner.
The Power of the Scanner
Your employees can scan a guest's wristband at any time to review the package and permissions they have purchased. Information is immediately displayed on the scanner or computer screen your employee is using.
Cashless Payments
The Smartest POS
Your employees will find it easy to process transactions using our POS system. Not only does it give simple prompts for each step (order, payment, etc.), it also has smart features like inventory updates and upsell recommendations.
Multiple Methods Accepted
Guests can use the payment method of their choice – credit, debit, mobile RFID payments are all accepted with our flexible POS system. Your employees can swipe or tap to accept instant payment and have a digital receipt sent directly to the guest via email.
We Store It All
Every transaction is saved within the dashboard and employees can easily retrieve a transaction if needed for a refund or review of purchase. Closing the cash at the end of a shift is easy because the system records transactions and calculates sales totals throughout the day.
Experiential Activations
Snap n' Scan
Roaming cameras make it easy for your employees to take candid photos of guests and share them instantly by scanning the guest's wristband. The camera and scanner are linked via Bluetooth, and the last photo taken will be shared with anyone whose wristband is scanned.
Points for Everyone
Employees can use handheld scanners to distribute points to guests who participate in games and activities. The balance of points can be recorded in the scanner, and a simple scan will add the points to the guest's profile instantly.
Interactive Kiosks
Guests scan at photo/trivia/scavenger hunt kiosks to participate in activations at your facility. If they need to provide assistance, employees can simply follow the prompts on the kiosk touchscreen to help guests to participate.
Easy Onboarding 
By using RFID solutions at your facility, you can create a great onboarding experience. The solutions provide simple and intuitive instruction, making it easy for new employees to allow access and payments. With RFID solutions, you can turn new employees into pros in no time!
What Now?
Learn about Connect&GO's solutions, by reserving a demo with our team today!