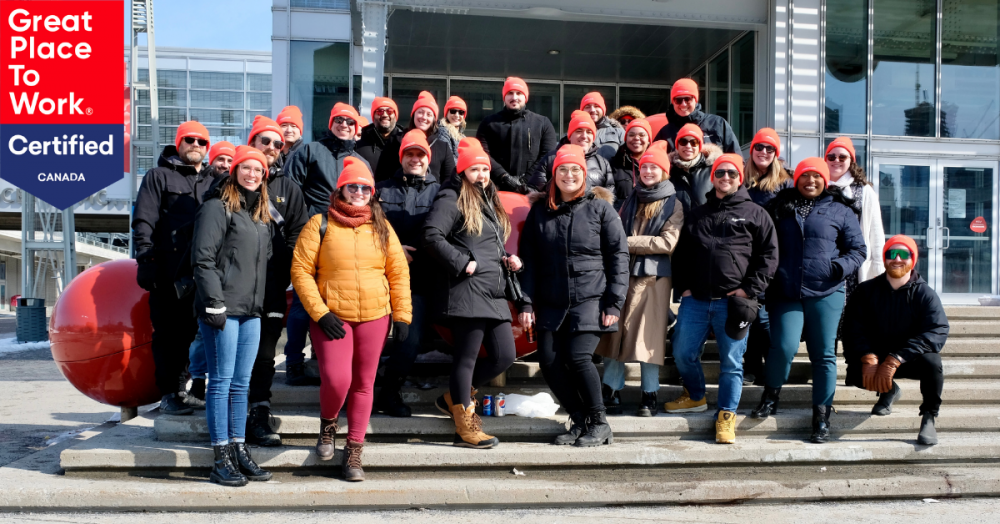 At Connect&GO, we are passionate about creating a culture that is centered around our people. As we work together to create the attraction industry's best all-in-one management software, it's important for us to also build a safe and open culture that offers true flexibility, helps our team members grow professionally and prioritizes physical and mental wellbeing above all else. That's why we are delighted to announce that we have been awarded the Great Place to Work® Canada Certification™!  
The Great Place to Work Certification uses survey data from employees around the world to quantify the current state of an organization's workplace culture and compare it to leading organizations. The Great Place to Work Certification focuses on 5 dimensions: Credibility, Respect, Fairness, Pride and Camaraderie. Together, they create an environment where employees trust one another, are proud in their work and enjoy their colleagues. We are thrilled to share that we receive an overall Trust Index© Score of 92% which far exceeds the 65% threshold for earning a spot on the list, with top marks of 92% or higher in all five dimensions of the model. 
Earning this certification would not be possible without the participation of our team and their honest feedback. From offering a hybrid workplace that empowers employees to pick whichever work environment is best for them to a company-wide focus on continued education, Connect&GO offers a wide range of benefits that remind our team that they are the reason for our success. Earning the Great Place to Work Canada Certification is something Connect&GO takes great pride in, because it means our employees feel valued, which is one of our greatest accomplishments!
Our certification comes as we have rolled out exciting new programs that help foster our unique growth and wellness culture:
Grow Days: Every month each team member gets a full day to devote to continued education which helps us set up the proper environment for individual and collective growth.
Continued Education Platform: We've recently given our team the Udemy Business platform to utilize to expand their skills in an accessible and easy way.
Play Days: We're in a fun industry and want our people to have opportunities to get outside and "play" in whatever form brings them joy, so we provide 5 extra "Play Days" to our team outside of the standard PTO. Play Days are a great chance to destress, relax and have fun. 
Employee Appreciation Day: This year, we launched our Employee Appreciation Day to give our team an extra day off before Spring break, allowing people to recharge.
"We are proud of our team members for making Connect&GO a great place to work, and for bringing the very best of themselves to support our mission, clients and colleagues," said Connect&GO CEO Dominic Gagnon. "Having a sense of pride in the work we accomplish and building a culture that actively promotes transparency, trust, innovation and passion is important to us, so we're very honored to receive the Great Place to Work Canada Certification."
Connect&GO is a global leader in guest and attractions management technology dedicated to creating the most flexible and easy-to-use operations management platform for the leisure, attractions, and entertainment industries. For more information on our products, connect with us here. To learn more about our company culture, click here.