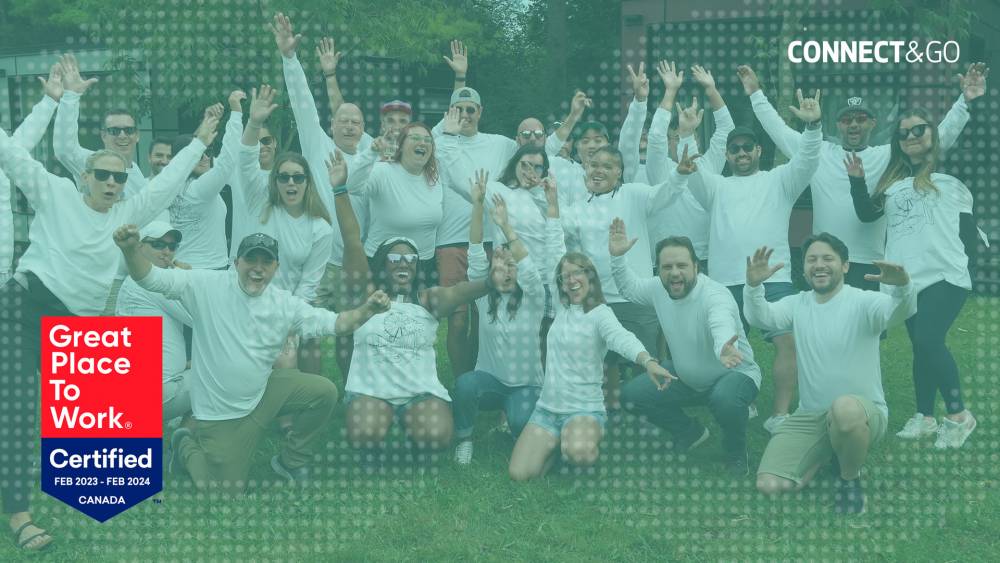 At Connect&GO we are dedicated to helping attractions around the world reach their highest potential through innovative technology. We're passionate about the challenges and successes of our customers as well as the development and success of our team. That's why we are delighted to share that Connect&GO has earned the Great Place to Work® Canada Certification™ for a second year in a row! 
"This is an accomplishment that deserves to be celebrated!" said Connect&GO CEO Dominic Gagnon, "We could not have earned this certification without each and every one of our team members. We are committed to continuing to raise the bar to make Connect&GO's culture something unique and extraordinary." 
"We are so proud of the culture that we have built and believe our team is the foundation of our success," said Ariane Desrosiers, Head of People at Connect&GO, "The hard work that each team member puts in every day is what fosters our growth, passion, trust, innovation, and transparency. These values are at the core of everything we do, and we believe they are essential to building a workplace culture that is both supportive and empowering."  
The Great Place to Work Canada Certification focuses on 5 dimensions of workplace culture: Credibility, Respect, Fairness, Pride and Camaraderie. Connect&GO scored well above the 65% Trust Index© Score threshold and received especially high marks in the Camaraderie category. 
"I'm so proud of how our team. It's amazing to see the genuine support and respect we have for each other as we all work towards the same goals," said Connect&GO SVP of Sales & Marketing Tara Morandi. 
Thank you to our amazing team for making Connect&GO a truly great place to work. We are excited to continue on this journey together, pushing boundaries, and striving for excellence in everything we do. 
Connect&GO is a global leader in RFID and integrated attractions management technology celebrating 10 years of innovation. We help operators move their business forward by providing the most flexible and easy-to-use all-in-one platform for the attractions industry. For more information on our products, connect with us here. To learn more about our company culture, click here.