Six Flags implements Connect&GO's proprietary Virtual Wallet technology to offer their guests a new way to pay and play!
September 11, 2023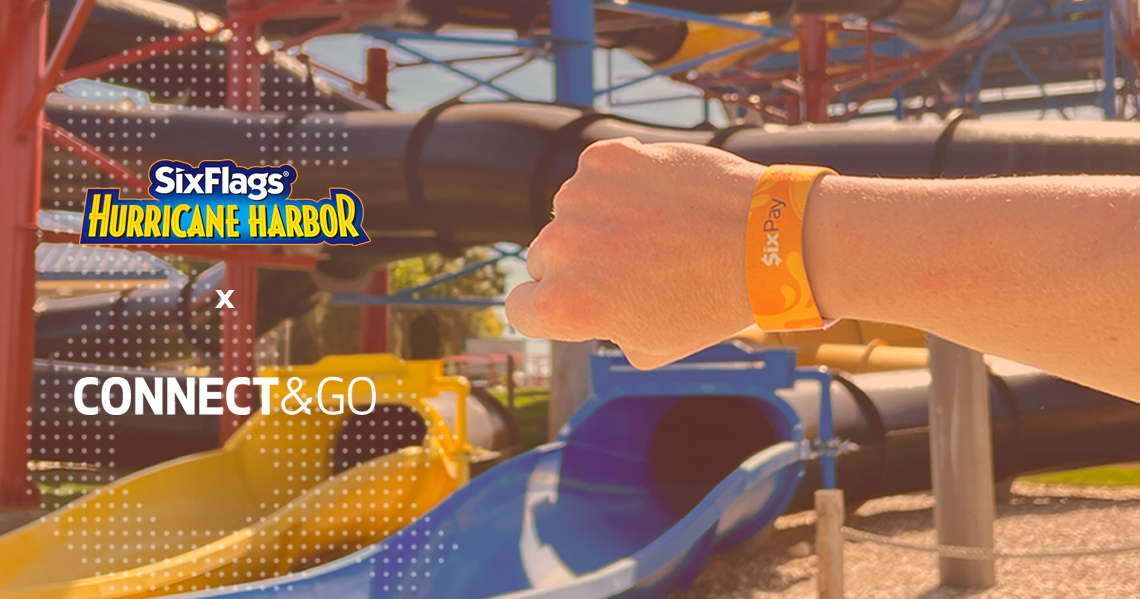 The SixPay cashless wristband debuted at four of their Hurricane Harbor Waterparks. 
September 12, 2023 – Connect&GO, the leading provider of integrated technology and RFID solutions around the world, and Six Flags Entertainment Corporation (NYSE: SIX), the world's largest regional theme park company and the largest operator of water parks in North America, have partnered to create seamless cashless experiences for guests at select Hurricane Harbor waterparks. The new SixPay program uses Connect&GO's proprietary Virtual Wallet technology and custom RFID wristbands to provide an easy way for guests to pay, helping to improve the experience while also encouraging guests to spend more in the parks.
Four Hurricane Harbor waterparks (Arlington, TX; New Jersey; Los Angeles; and Phoenix) were the first to debut Connect&GO's Virtual Wallet technology this summer as they launched the new SixPay wristband, leveraging Connect&GO's cloud-based platform and RFID technology to facilitate frictionless onsite sales. This innovative solution streamlines operations, providing team members with intuitive technology that allows them to effortlessly sell cashless wristbands and accept payments at food and beverage, retail, and rental locations throughout the park.  
"Our partnership with Six Flags marks an exciting time in our 10-year history of deploying cashless operations at venues and attractions around the globe," said Connect&GO CEO, Dominic Gagnon. "Our advanced Virtual Wallet technology enhances convenience and guest engagement and aligns perfectly with Six Flags' vision to create memorable experiences through industry-leading innovation and technology." 
Through this new partnership, guests can easily purchase a cashless wristband, load funds, verify their balance, and reload money from a mobile point-of-sale device anywhere in the water park. By registering their unique wristbands online and creating an account, guests can easily load and reload funds and enjoy a day of tap-and-pay convenience. Along with creating a more frictionless purchasing experience for guests, this brings a host of operational benefits, including centralized access to real-time data, easier sales experiences for seasonal staff and increased revenue. 
"We are committed to harnessing the latest technology to elevate the guest experience at Six Flags. Through our partnership with Connect&GO, we've successfully integrated their advanced RFID technology into our operations. This allowed our guests to enjoy a frictionless experience across our waterparks, liberating them from the inconvenience of carrying wallets or phones," said Omar Jacques Omran, Chief Digital Officer at Six Flags Entertainment Corporation. "On top of that, Connect&GO has been an outstanding partner. Their team understands the many factors contributing to successful operations and has been dedicated to helping operators innovate and grow." 
"The successful launch of SixPay has surpassed our projections and highlights the growing demand for true cashless experiences in the waterpark industry and beyond," commented Tara Morandi, Senior Vice President of Sales and Marketing at Connect&GO. "We're dedicated to helping attractions revolutionize their operations with truly integrated technology and real-time data, and we're honored that Six Flags has selected us as their partner in this endeavor." 
Connect&GO recently closed its second round of funding with $25 million raised and is celebrating its 10th year of helping attractions drive revenue and simplify operations through integrated technology. Having played a pivotal role in pioneering RFID technology and powering frictionless experiences across global live events from the Super Bowl to the Olympics, the company has since evolved to develop a fully integrated platform for the attractions industry, serving waterparks, family entertainment centers and attractions across the United States, Canada and Europe. The company has also announced a new AI traffic prediction engine that it plans to debut at IAAPA Expo 2023 in Orlando.  
About Six Flags Entertainment Corporation 
Six Flags Entertainment Corporation is the world's largest regional theme park company with 27 parks across the United States, Mexico and Canada. For 63 years, Six Flags has entertained hundreds of millions of guests with world-class coasters, themed rides, thrilling water parks and unique attractions. Six Flags is committed to creating an inclusive environment that fully embraces the diversity of our team members and guests. For more information, visit www.sixflags.com. 
About Connect&GO 
Connect&GO is the leading global provider of integrated technology and RFID solutions for the attractions industry. Our flexible operations management platform seamlessly integrates eCommerce, point-of-sale, food & beverage, RFID, access control and cashless payments using our proprietary Virtual Wallet technology to give you all your data in one place. We help you drive revenue and maximize guest engagement with valuable data insights all in real-time. Connect&GO serves amusement and water parks, family entertainment centers, zoos & aquariums, and other attractions around the world, helping to integrate easy-to-use wearable technology into incredible experiences. 
To learn more, visit: www.connectngo.com 
For more details, or to arrange an interview, please contact: 
Katie Reilly, Director of Marketing 
---