Connect&GO welcomes 7 new partners
April 24, 2023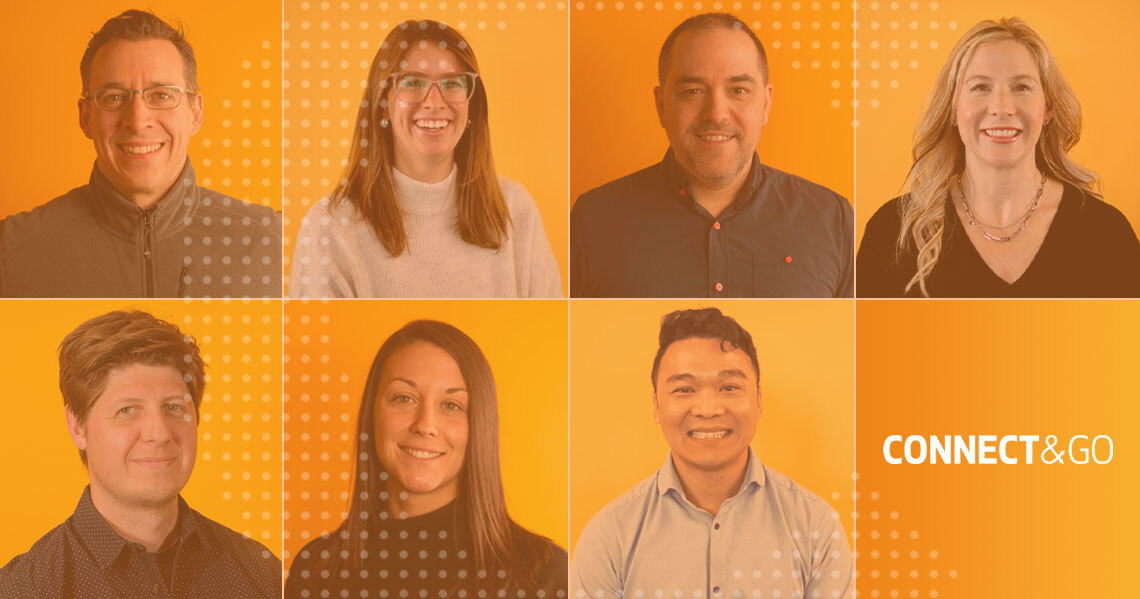 Several members of the management team have become shareholders and official partners as the company continues its global expansion.
April 25, 2023– Montreal, Quebec – Connect&GO, a world leader in integrated attractions management solutions and RFID technology, announces the arrival of 7 new equity partners as the company continues to expand into the United States, Europe and Canada.  
Myriam Blanchette (Director, Deployment & Customer Success), Ariane Desrosiers (Director, People & Culture), Marc-André Dubé (Director, Product Management), Mathieu Dupuis (Vice President, Technology & Innovation), Virachay Maly (Director, Finance), François-Pierre Moffet (Chief Operating Officer) and Tara Morandi (Senior Vice President, Sales and Marketing) have all taken an equity stake in the organization, reflecting the group's strong commitment to their growth plan. 
Connect&GO offers a cloud-based attractions management platform, Konnect, that seamlessly combines 10 different systems into an all-in-one platform with real-time data. The company recently closed its series A funding in August 2022 with 17$ Million (CAD) raised and plans to double their revenue and number of installations each year, with a goal of exceeding one billion dollars in transactions before 2025.  
"Our team has built a game-changing platform for the leisure industry over the last 3 years and we're only scratching the surface," said François-Pierre Moffet, COO of Connect&GO. "I am very excited to be personally invested in that journey and to continue to scale Connect&GO as an emerging global leader."
"At Connect&GO we are changing the face of attractions management technology with a product that is truly revolutionary," said Dominic Gagnon, CEO and Co-founder of Connect&GO. "Our leadership team has played a pivotal role in accelerating our growth over the past few years and remains firmly committed to our mission." 
Connect&GO's mission is to empower our clients to simplify their operations, increase their revenue and focus on their guests.
"On top of our mission, I have complete faith in our team," said Ariane Desrosiers, Director, People & Culture, "Our team is smart and highly experienced, but most importantly, we are incredibly dedicated to building strong relationships with our partners and customers."  
"I am honored to have the opportunity to invest in a company that is truly focused on helping our clients grow and innovate while providing unparalled customer support," added Tara Morandi, Senior Vice President of Sales and Marketing. "We are dedicated to building something extraordinary and helping attractions solve the very real pain points of disconnected data and inflexible systems." 
The news comes after the company announced a three-year partnership extension with Super Aqua Club following new agreements with Le Rond-Point Milieu de jeux, a new family entertainment center in Quebec, and Wild Water Adventure Park, one of California's largest water parks.  
About Connect&GO 
Connect&GO is a global leader in RFID and integrated attractions management technology with the most innovative and flexible operations management platform for the attractions industry. Our all-in-one management platform seamlessly integrates eCommerce, point-of-sale, food & beverage, RFID access control and cashless payments using our Virtual Wallet to give you all your data in one place. We help you drive revenue and maximize guest engagement with valuable data insights all in real-time. Connect&GO serves amusement and water parks, family entertainment centers, zoos & aquariums, festivals, and sporting events around the world, helping to integrate easy-to-use wearable technology into incredible experiences. 
To learn more, visit: www.connectngo.com 
For more details, or to arrange an interview, please contact: 
Katie Reilly, Director of Marketing 
---