WaTiki indoor waterpark resort launches a fully connected guest experience with Connect&GO
August 18, 2022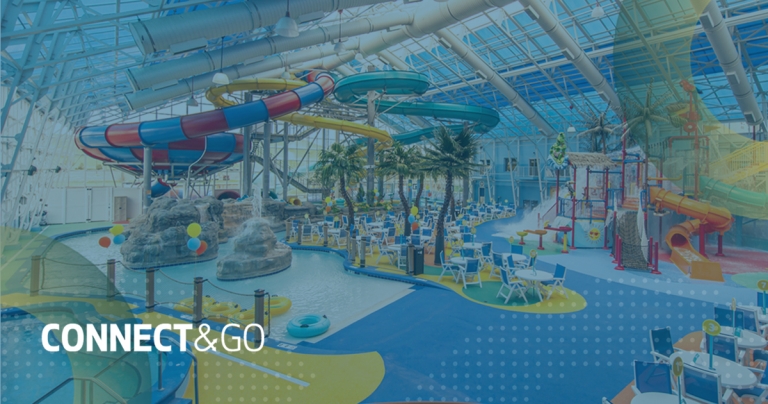 The waterpark resort is using the Konnect all-in-one management platform to create frictionless guest experiences with connected technology.
August 18, 2022 – Montreal, Quebec – Connect&GO, a world leader in integrated attractions management solutions and RFID technology, announces their partnership with WaTiki Indoor Waterpark Resort to provide their Konnect all-in-one attractions management platform.
WaTiki is one of the first attractions in the United States to implement the complete Konnect ecosystem, delivering a frictionless guest experience using next-generation technology.
Located in Rapid City, South Dakota, WaTiki features over 30,000 square feet of swimming pools and water slides and is the largest indoor waterpark in the Dakotas offering family fun for everyone. The resort is home to 5 hotels, several restaurants and a large arcade featuring more than 50 favorite classic and modern video games.
WaTiki is using Konnect's eCommerce ticketing, point-of-sale and cashless functionality combined with best-in-class integrations for access control gates, gaming cards, lockers, waivers and more.  All guest and transactional data is centralized in their guests' virtual "WaTiki Wallets," and made available to both operators and guests in real-time.
With a simple tap of their RFID wristband, guests can use their virtual currency ("Tiki Cash") to purchase arcade play, gift shop items, food and drinks. They can also use their wristband to access onsite lockers.
"Connect&GO has helped us create a guest experience that is modern, frictionless and completely connected," said Lauren Ebert, General Manager. "The Konnect platform makes it easier for our guests to enjoy everything our resort has to offer, and it gives our operations team the real-time data they need to deliver an exceptional experience."
Unlike traditional platforms that keep data from different parts of the guest experience siloed, the Konnect platform can unify data from over 12 different sources and communicate in real-time. Guest data is stored in Virtual Wallets, while the connected ecosystem enables guests to redeem entitlements with a simple tap of a wristband or scan of a QR code.
"The future of attractions management technology is in connected systems, but far too often, the systems that operators are using do not talk with one another," said Dominic Gagnon, CEO of Connect&GO. "We are passionate about helping operators break down data silos and unlock incredible opportunities through the power of an integrated platform and real-time data."
About Connect&GO
Connect&GO is a global leader in guest and attractions management technology with the most flexible and easy-to-use operations management platform for the attractions industry. Our all-in-one management platform seamlessly integrates eCommerce, point-of-sale, food & beverage, RFID access control and cashless payments using our Virtual Wallet to give you all your data in one place. We help you drive revenue and maximize guest engagement with valuable data insights all in real-time.  Connect&GO serves amusement and water parks, family entertainment centers, zoos & aquariums, festivals, and live events around the world to integrate easy-to-use wearable technology into incredible experiences.
To learn more, visit: www.connectngo.com
For more details, or to arrange an interview, please contact:
Katie Reilly, Director of Marketing
---