Roaring Springs wins the prestigious WWA Leading Edge Award for implementing cutting-edge technology across their waterpark
October 24, 2023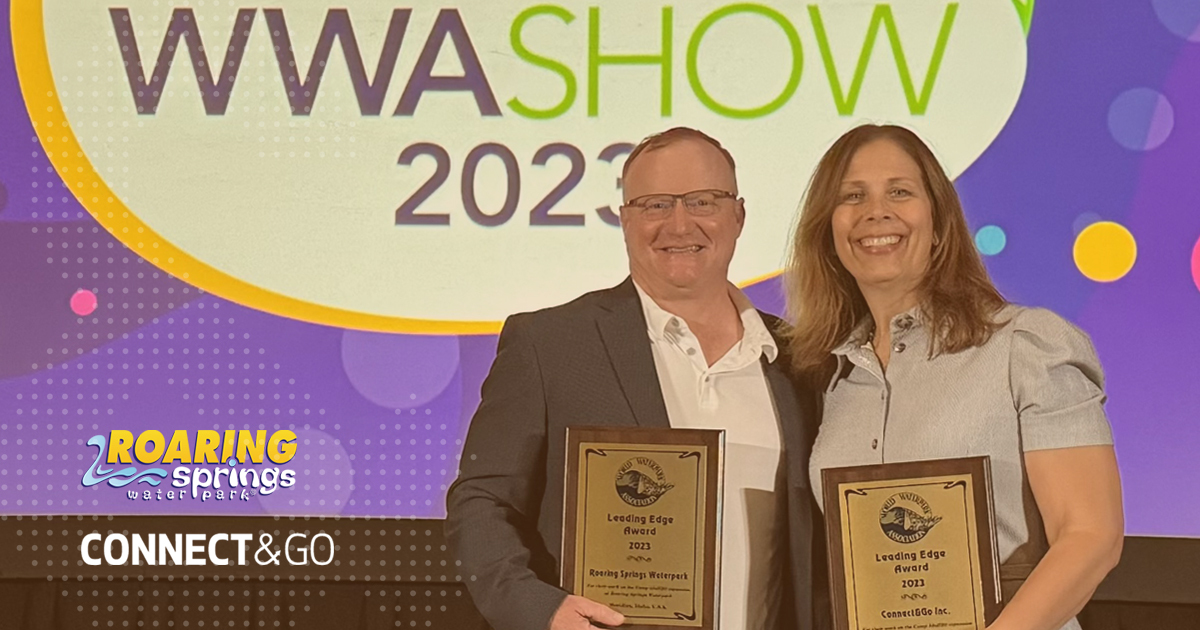 The largest waterpark in the United States has transformed the guest experience with a massive expansion including Connect&GO's integrated platform and Virtual Wallet technology.
October 25, 2023 – Connect&GO, a world leader in groundbreaking attractions management and RFID technology, proudly announces the outstanding achievement of its esteemed client, Roaring Springs Waterpark, who has been honored with the prestigious WWA Leading Edge Award for their implementation of cutting-edge technology including Connect&GO's integrated attractions management platform with Virtual Wallet technology.
The WWA Leading Edge Awards are a testament to excellence and innovation within the water attractions industry. Each year, these awards are bestowed upon individuals or parks that have demonstrated exceptional creativity in the development of new themes, facilities, programs, services, or operational concepts that contribute to the advancement of the water attractions industry. Suppliers who have introduced pioneering concepts, products, or services to benefit park members, customers, and the industry as a whole are also recognized.
"We are honored that our partner, Roaring Springs, has been recognized for their innovative deployment of technology in the waterpark industry that includes our integrated management platform," said Connect&GO CEO Dominic Gagnon, "We take immense pride in supporting our clients in their quest to redefine their operations with next-generation technology."
Connect&GO's commitment to revolutionizing operations with fully connected technology and real-time data has played a key role in the success of Roaring Springs Waterpark, the largest waterpark in the Northwest United States, as they implemented the company's Konnect attractions management platform along with RFID wearables to help create a next-generation experience for their guests.
Located in Meridian, ID, Roaring Springs Waterpark offers more than 20 attractions for family members of all ages. From a thrilling wave pool, action-packed river ride, and family-friendly raft adventures to tube slides, a kiddie play area, and the exhilarating 360-looping waterslide known as Corkscrew Cavern, the park offers an array of exciting experiences. This year, Roaring Springs debuted Phase 1 of their 7-phase expansion plan, opening 3 new attractions, a new grill and bar, 16 new cabanas and new parking. With this expansion plan, the waterpark is poised to become one of the largest waterparks in the United States.
"As we embarked on our new expansion, finding the right partners to help deliver an exceptional guest experience was key," commented Patrick Morandi, CEO of Roaring Springs. "Connect&GO's commitment to understanding our unique needs has made them an invaluable collaborator. With their integrated system and Virtual Wallet technology, we've elevated the guest experience and unlocked more opportunities to simplify our operations and increase ROI seamlessly across our park."
Connect&GO's industry-leading attractions management platform (aptly named Konnect) seamlessly integrates eCommerce, point-of-sale, F&B, access control and cashless payments using proprietary Virtual Wallet technology and RFID wearables. Compared to traditional systems that are inflexible, incomplete and disconnected, Konnect gives operators a holistic view of guest data, all in real-time, enabling them to deliver frictionless experiences that simplify operations, drive guest engagement and maximize revenue growth. 
Roaring Springs implemented the Konnect platform earlier this year along with waterproof RFID wristbands that guests could use to enter the facility, purchase F&B and retail items, redeem passholder benefits and more. Over the past year, the facility also launched multiple self-service kiosks for guests to easily top up cashless funds, as well as interactive cabana maps to streamline the purchasing process for guests. Roaring Springs is also using Connect&GO's integrated Marketing & CRM to drive guest engagement and accelerate business growth through one-to-one communications and marketing automation.  
Along with the Connect&GO platform, Roaring Springs also implemented the EAVS system by ELLIS Aquatic Innovations, the world leader in aquatic safety. Powered by integrated AI, EAVS (Ellis Aquatic Vigilance System) is the world's most complete drowning prevention, safety and security vigilance system. The waterpark also collaborated with ProSlide for their new interactive water playground, Camp IdaH2O, launched this year. Camp IdaH2O features seven intermediate slides, 100 play features, an 8" deep lagoon and theming with iconic local animals and birds. 
"We are continually impressed by the innovative ways our clients harness technology to achieve their goals," commented Myriam Blanchette, Director of Client Success at Connect&GO. "Their use of technology not only showcases their commitment to elevating the attractions industry overall, but also inspires us to push our own boundaries, ensuring we provide them with the most advanced solutions to fuel their success."  
Roaring Springs is one of two Connect&GO clients to be recognized with a WWA Leading Edge Award this year. Super Aqua Club, one of Connect&GO's first waterpark clients who has used the Konnect system and smart wearables since 2019 earns the award this year for their multi-sensory Dream Tunnel ride developed by Vortex International. 
Connect&GO celebrates 10 years of technology innovation this year and has made several major announcements recently, including a partnership with four Six Flags Hurricane Harbor parks, as well as an expansion into France along with a strategic agreement with the Looping Group. The company plans on showcasing its Konnect attractions management platform and unveiling new product features at IAAPA Expo Orlando in November.  
About Connect&GO
Connect&GO is the leading global provider of integrated technologies and RFID solutions for the attractions industry. Our flexible operations management platform seamlessly integrates e-commerce, POS, food and beverage, RFID, access control and cashless payments using our proprietary virtual wallet technology for you provide all your data in one place. We help you drive revenue and maximize customer engagement with valuable data insights, all in real-time. Connect&GO serves amusement and water parks, family entertainment centers, zoos and aquariums and other attractions around the world, helping to integrate easy-to-use wearable technology into incredible experiences.
To learn more, visit: www.connectngo.com.
For further details or to arrange an interview, please contact:
Katie Reilly, Marketing Director
---