Connect&GO accelerates its European expansion with the Looping Group
September 21, 2023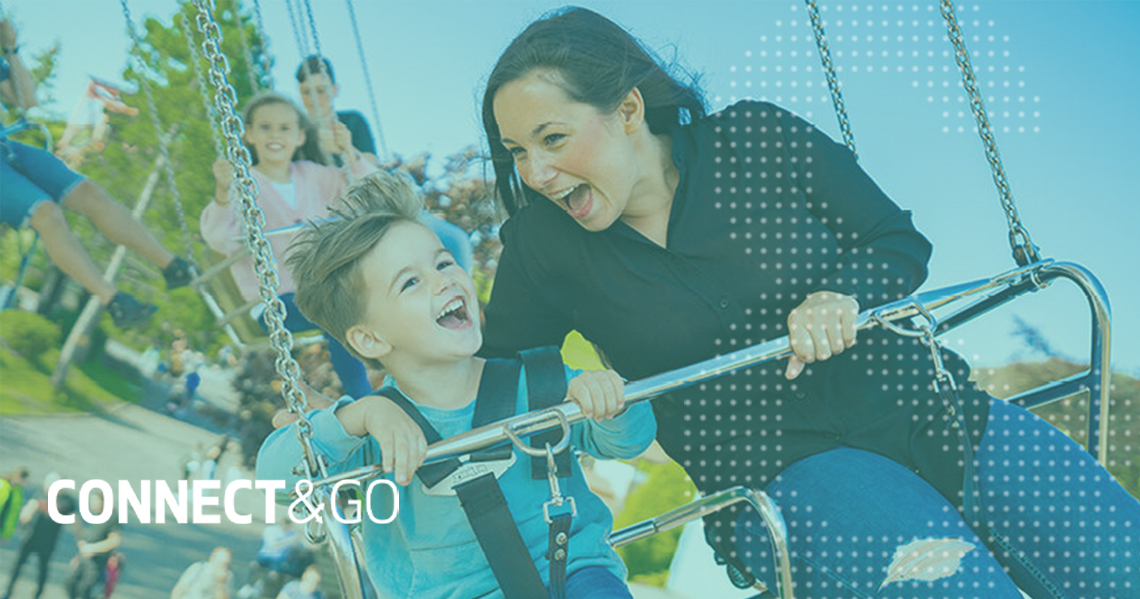 Attractions in France can now reduce manual processes, optimize group sales bookings and receive faster payments.
September 25, 2023 – Connect&GO, the leading global provider of integrated technology and RFID solutions for attractions, is proud to announce today its expansion in France thanks to a strategic deployment of its solution in five parks of the Looping Group, including two of the largest parks in the country. This expansion brings the number of parks in France using the Connect&GO solution to more than 8, thus strengthening the company's position as a key player in the French market and in Europe.
Thanks to this partnership, resulting from a long selection process by the group, Looping Group properties will be able to use a solution at the cutting-edge of cloud technology with multiple, fully-integrated functionalities including B2B sales, CRM, marketing automation, online and on-site ticketing, access control, cashless payments, smart wearables, business intelligence, artificial intelligence features, self-service kiosks and many other features provided by the Connect&GO platform.
Welcoming approximately 6.2 million visitors per year, Looping Group is one of Europe's leading owners and operators of regional theme parks, water parks, aquariums and wildlife parks. Looping Group's properties include 18 parks and entertainment venues spread across 8 European countries, including the United Kingdom, the Netherlands, Switzerland, Germany, Spain, Portugal and Croatia. Their portfolio of attractions consists of several prominent parks in the region, including Mer de Sable and Bagatelle, two of the largest parks in France.
Looping Group's decision to partner with Connect&GO was the result of a lengthy selection process aimed at finding the best technology partner to support the growth of the group's properties. With Connect&GO, Looping will have a unique and connected platform that allows them to centralize data and implement powerful marketing campaigns adapted to the data of each park. This will automate tasks related to reservations and activities, leading to greater efficiency and better ROI.
"With customer experience and visitor satisfaction at the heart of our strategy, having an efficient ticketing system is key. Connect&GO listened to our needs and helped us address our challenges. We worked hand-in-hand to have a solution that now makes the operator and customer journey smoother. The results of our POC were positive: our teams and our viistors were satisfied! We are therefore delighted to deploy the solution in 7 of our group's parks," said Anne-Lise Vergnory, Sales & Marketing Director of Looping Group.
This contract extension follows the successful deployment of the Connect&GO platform in two Looping Group properties (Cobac Parc and Aquarium St-Malo) in France last year, bringing the total number of installations to date to seven for the group. New establishments include Mer de Sable, Parc Bagatelle, Grand Aquarium de Touraine, Mini-Châteaux and Planète Sauvage.
This major step represents a major springboard for the development of the company in France and Europe. "For years, the French market has been looking for an innovative technological supplier offering a complete solution, capable of meeting the diverse needs of leisure parks," said Dominic Gagnon, CEO of Connect&GO. "With our technological expertise, capacity for innovation and in-depth understanding of the needs of leisure parks, Connect&GO is determined to fill this void and challenge the incumbent players who have dominated the sector for decades. To do this, we have invested significant resources to adapt our product to the specificities of the French market."
Significant investments in Europe
As part of this expansion, Connect&GO plans to allocate substantial funds for this investment, notably by making strategic hires to support its growth and its commitment to both the French market and the broader European market.  "At Connect&GO, we firmly believe that the success of our expansion in Europe will depend on the satisfaction of our customers. For too long, ticketing solution providers have taken their customer for granted. We are committed to providing an exceptional experience at every park and attraction we serve because we view our guests as partners, not customers," said Myriam Blanchette, director of implementation and customer success, "Our ultimate goal is to transform our customers into ambassadors for our solution, because we believe that their positive testimony will be the best guarantee of success for Connect&GO in France and beyond."
Connect&GO recently announced several new initiatives to achieve its strategic objective of presenting a complete and unified solution to the European market, with product enhancements including integrations with the French electronic invoicing portal (Chorus Pro) and integration with major French distribution channels (Ticketmaster and Francebillet). The company will be showcasing its Konnect platform at IAAPA Expo Europe, and operators interested in learning more are encouraged to book a meeting in advance.
About Looping
Looping Group is made up of 18 parks in Europe. The sites are essential local leisure activities in each of their territories. Established in 8 countries (France, England, the Netherlands, Switzerland, Germany, Spain, Portugal and Croatia), the group has the ambition to become the European leader in the parks and leisure industry.
About Connect&GO
Connect&GO is the leading global provider of integrated technologies and RFID solutions for the attractions industry. Our flexible operations management platform seamlessly integrates e-commerce, POS, food and beverage, RFID, access control and cashless payments using our proprietary virtual wallet technology for you provide all your data in one place. We help you drive revenue and maximize customer engagement with valuable data insights, all in real-time. Connect&GO serves amusement and water parks, family entertainment centers, zoos and aquariums and other attractions around the world, helping to integrate easy-to-use wearable technology into incredible experiences.
To learn more, visit: www.connectngo.com.
For further details or to arrange an interview, please contact:
Katie Reilly, Marketing Director
---