Connect&GO announces enhanced marketing automation integration with ActiveCampaign to help attractions operators streamline success
August 16, 2023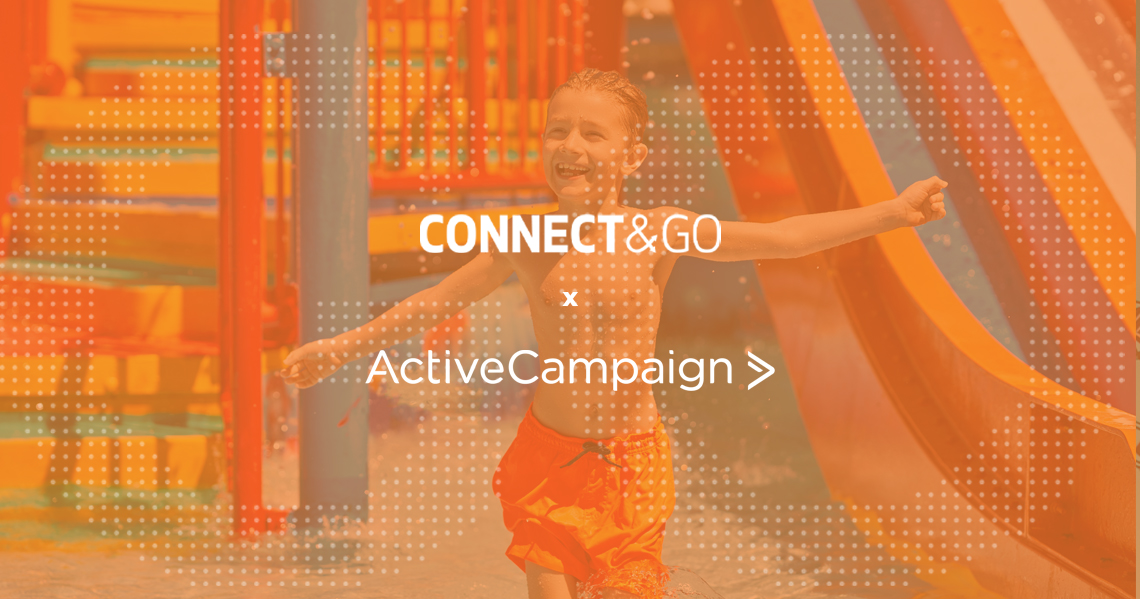 The enhanced integration will help operators nurture guest engagement and simplify tedious sales processes.
August 17, 2023 – Connect&GO announces their newly-enhanced marketing automation integration with ActiveCampaign, the leader in marketing automation, email marketing and CRM for businesses of all sizes, to help revolutionize the attractions industry. With the fully integrated Konnect Marketing & CRM, powered by ActiveCampaign, operators can utilize automation and real-time data to help generate new revenue, increase guest engagement and maximize efficiency. 
A revolutionary feature for the attractions industry. 
Konnect Marketing & CRM provides instant access to the most up-to-date information on guest data, online purchase history and activity. Through this unique integration, contacts are automatically created, and order information is updated as orders are placed on an attraction's website, enabling marketers to deliver more effective communications.  
"Marketing teams no longer have to spend hours of tedious work exporting lists and importing them into a separate email system. With our ActiveCampaign integration, marketing and sales data is directly synched and available in real-time," said Tara Morandi, Senior Vice President of Sales and Marketing at Connect&GO. "That combined with the advanced marketing automation features that ActiveCampaign offers is truly a game-changer for marketing teams." 
Using the real-time data from Konnect and ActiveCampaign's intuitive platform, marketers can create and program automated journeys that help drive engagement, including pre-visit communication, post-visit communication, abandoned cart communication and more.  
"Our Konnect Marketing & CRM is so much more than a communications tool, though," said Morandi, "our flexible automations can also help you organize contacts in a very granular way that gives you rich (and actionable) insight into your guests behavior." 
New enhancements to supercharge attractions marketing. 
While the Konnect platform has been integrated with ActiveCampaign since 2019, the latest enhancements promise extensive benefits in terms of simplicity and overall use. With the new Dynamic Fields Mapper and CRM Engine, operators can easily configure the customer fields that are automatically synched from Konnect to ActiveCampaign. Customer and transactional data such as the next visit date, account type, and language can be mapped to their respective fields in ActiveCampaign, making it easier for operators to set up automations that engage with their guests at every stage of their journey. 
Secondly, a new Account Sync also enables operators to automatically add contact and order information from onsite purchases, helping to ensure that operators have the most up-to-date information at their fingertips.  
"Timing is everything with marketing, and our new account sync features make it easier for operators to ensure that no opportunities to reach their most engaged guests are missed," said Morandi.  
Introducing a new way to streamline reservations and group sales. 
Konnect Marketing & CRM also includes a new Reservations Sync feature that helps operators automate group sales processes including lead scoring and communication. The new Reservations Sync feature directly connects group sales information including reservation status, date, value and products to ActiveCampaign. As reservations move throughout different stages, this information is automatically updated in ActiveCampaign's B2B pipeline, making it easier for teams to communicate with groups at appropriate times. 
"At Connect&GO we believe in the power of real-time data to help operators simplify processes so that they can grow their revenue and better focus on their guests," said Marc-André Dubé, Director of Product Management at Connect&GO. "We're excited to introduce the new Reservations Sync to help group sales teams spend less time on administrative work and more time on other areas that add value to their attraction." 
Reservations sync may also be used for individuals as well, allowing operators more options for automating personalized follow-ups at different stages in the guest journey. For example, if a reservation is canceled by a guest, an attraction could automate sending them an invitation to re-book a different date, or when a reservation date is approaching, they can send a message with helpful information about what to expect ahead of their visit, including recommended additional items for purchase. 
Connect&GO is widely known for its innovative RFID solutions  and all-in-one platform, Konnect, that seamlessly integrates eCommerce, point-of-sale, access control, cashless and more, bringing 10 separate systems into a truly integrated solution with real-time data. The company serves water parks, family entertainment centers, theme parks and many more attractions throughout the United States, Canada  Europe and the Middle East, and recently announced new partnerships with Village D'Antan Quebecois as well as Amilia during its 10th anniversary year. 
"We are excited to partner with Connect&GO to help the attractions industry innovate and grow," said Xiaofei Zhang, Senior Director of Strategic Partnerships at ActiveCampaign. "At ActiveCampaign, we are dedicated to helping growing businesses gain access to sophisticated tools that were once only available to larger companies. We look forward to helping even more water parks, attractions and family entertainment centers revolutionize their operations through the power of automation!" 
About Connect&GO
Connect&GO is a global leader in RFID and integrated attractions management technology with the most innovative and flexible operations management platform for the attractions industry. Our all-in-one management platform seamlessly integrates eCommerce, point-of-sale, food & beverage, RFID access control and cashless payments using our Virtual Wallet to give you all your data in one place. We help you drive revenue and maximize guest engagement with valuable data insights all in real-time.  Connect&GO serves amusement and water parks, family entertainment centers, zoos & aquariums, festivals, and sporting events around the world, helping to integrate easy-to-use wearable technology into incredible experiences.
To learn more, visit: www.connectngo.com
For more details, or to arrange an interview, please contact:
Katie Reilly, Director of Marketing
About ActiveCampaign 
Recognized as a leader in the marketing and sales automation space, ActiveCampaign helps businesses of all sizes and industries meaningfully connect and engage with their customers. Its powerful automation platform helps organizations in 170 countries grow by scaling and personalizing customer experiences. ActiveCampaign accelerates business growth by providing access to 925+ pre-built automations that combine transactional email and email marketing, marketing automation, ecommerce marketing, and CRM to enable 1:1 experiences that connect across all channels and through the entire customer lifecycle. 
---