Fabrikus World reinvents the park experience with Connect&GO
August 30, 2022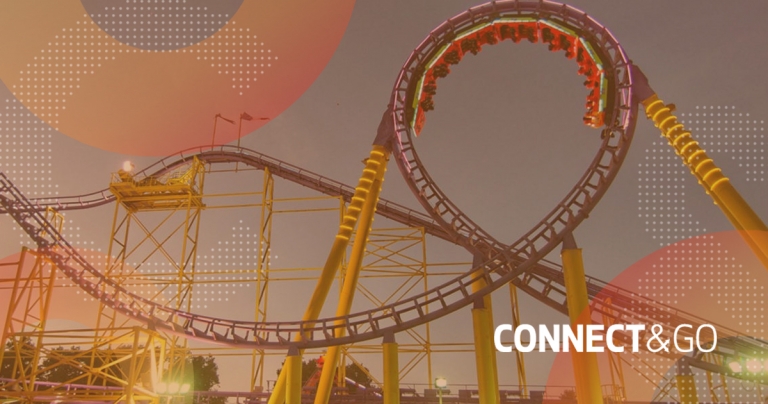 The French amusement park has implemented the Konnect all-in-one management platform to simplify operations and maximize profitability.
August 30, 2022 – Montreal, Quebec – Connect&GO, a world leader in integrated attractions management solutions and RFID technology, announces their partnership to provide their Konnect all-in-one management platform to Fabrikus World, the largest park in the South of France. The unique beachfront attraction is using the next-generation Konnect platform to power a modern and seamless experience using connected technology and real-time data.
Using the highly flexible Konnect platform and a new integration with dormakaba Alvarado, Fabrikus World has improved the security at their facility while creating a seamless experience for guests and operators alike. Whereas the park had open access and used paper ride coupons for their rides previously, guests now pay a nominal fee to enter the park and purchase digital tokens (called "Fabcoins") that are used to access rides, food and beverage items and more. With a simple tap of their RFID media at strategic entry points, the appropriate number of tokens are deducted, and access is granted.
The new access control integration has helped Fabrikus World reduce staffing requirements and power fast and convenient access throughout their park. The park has also implemented Konnect's photo platform for high-speed ride photos, offering guests a way to preserve their happy memories from their visit while capturing additional revenue.
"Connect&GO's highly flexible and integrated technology has helped us completely reinvent our park operations," said Jean Champetier, co-owner of Fabrikus World. "With the Konnect all-in-one management platform, we can improve our ROI and create a more engaging guest experience."
Fabrikus World (originally Europark Vias Plage) is the largest fixed fairground in France with over 25 rides and rollercoasters for all ages, and 3 restaurants. Formerly known as Europark Vias Plage, the attraction has embarked on a growth plan starting in September 2021 slated to last 5 years.
"We are thrilled to support Fabrikus World as they embark on this exciting new phase of growth for their operation," said Dominic Gagnon, CEO of Connect&GO. "From Europe to North America and beyond, we are helping our clients streamline their operations with connected technology. We are passionate about helping them embrace the future, now!"
To learn more about Connect&GO, visit www.connectngo.com.
About Connect&GO 
Connect&GO is a global leader in guest and attractions management technology with the most flexible and easy-to-use operations management platform for the attractions industry. Our all-in-one management platform seamlessly integrates eCommerce, point-of-sale, food & beverage, RFID access control and cashless payments using our Virtual Wallet to give you all your data in one place. We help you drive revenue and maximize guest engagement with valuable data insights all in real-time. Connect&GO serves amusement and water parks, family entertainment centers, zoos & aquariums, festivals, and live events around the world to integrate easy-to-use wearable technology into incredible experiences. 
To learn more, visit: www.connectngo.com 
For more details, or to arrange an interview, please contact: 
Katie Reilly, Director of Marketing 
---