Canyon Sainte-Anne nature park signs three-year agreement with Connect&GO
April 25, 2023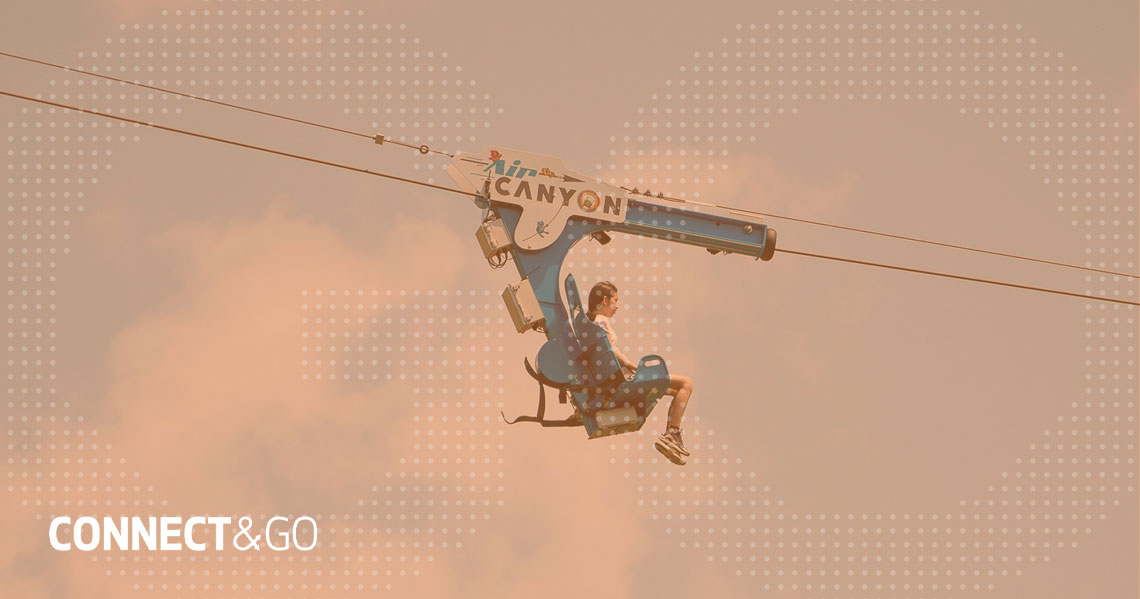 The park will be using the integrated Konnect platform to increase eCommerce sales and streamline onsite processes.
April 27, 2023 – Montreal, Quebec – Connect&GO, a world leader in integrated attractions management solutions and RFID technology, announces a new partnership to provide their Konnect all-in-one management platform to Canyon Sainte-Anne, an outdoor nature park in Quebec. 
Known for its beautiful scenery and lush nature setting, the Canyon aspires to provide an inspiring and meaningful ecotourism experience that ensures sustainability for future generations. Canyon Sainte-Anne offers activities for the whole family including hiking trails, suspension bridges and their unique AirCANYON zipline which takes guests on a thrilling journey through the forest with breathtaking views of the canyon and waterfall from the comfort of a motorized chair built for two.
Canyon Sainte-Anne will be using Connect&GO's all-in-one attractions management platform (Konnect) to drive sales and streamline processes through one central system for eCommerce, point-of-sale, access control and reporting. With Konnect's easy-to-use interface, the team can quickly customize their eCommerce and point-of-sale configuration and access all their data in real-time.
"The Konnect platform is simple, user-friendly and very comprehensive," said Josée Fillion, Director of Canyon Sainte-Anne. "It will help us solve many problems encountered in the past. Plus, the team has been amazing to work with and extremely helpful with training and support."
Konnect is a cloud-based all-in-one management platform that seamlessly integrates eCommerce, point-of-sale, food & beverage, RFID access control and cashless payments into one centralized system with real-time data. Whereas legacy ticketing platforms traditionally keep systems siloed, Konnect unifies data to create a connected ecosystem that helps attractions drive revenue and maximize guest engagement through frictionless experiences.
"We are very happy to partner with Canyon Sainte-Anne to help them optimize the management of eCommerce and onsite sales processes," said Dominic Gagnon, CEO of Connect&GO. "We're passionate about helping our clients leverage the benefits of a connected system and real-time data."
About Connect&GO
Connect&GO is a global leader in RFID and integrated attractions management technology with the most innovative and flexible operations management platform for the attractions industry. Our all-in-one management platform seamlessly integrates eCommerce, point-of-sale, food & beverage, RFID access control and cashless payments using our Virtual Wallet to give you all your data in one place. We help you drive revenue and maximize guest engagement with valuable data insights all in real-time. ​Connect&GO serves amusement and water parks, family entertainment centers, zoos & aquariums, festivals, and sporting events around the world, helping to integrate easy-to-use wearable technology into incredible experiences.
To learn more, visit: www.connectngo.com
For more details, or to arrange an interview, please contact:
Katie Reilly, Director of Marketing
---