Calaway Park Renews Partnership with Connect&GO
July 12, 2022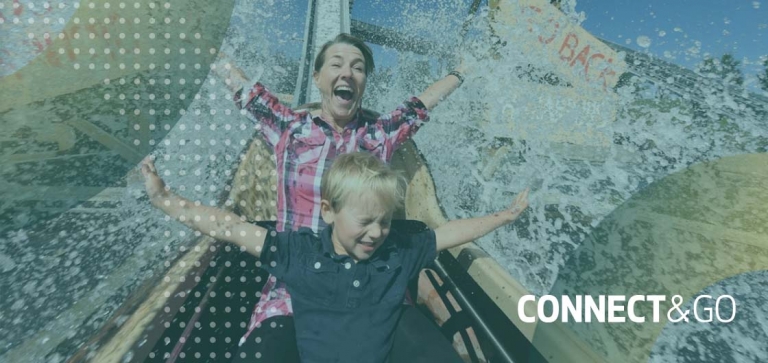 July 12, 2022 – Montreal, Quebec – Connect&GO, a world leader in integrated attractions management solutions and RFID technology, announces that Calaway Park has signed a 3-year contract renewal. The amusement park is using Connect&GO's photo and video technology at two of their most popular rides, the Vortex rollercoaster and Timber Falls log ride.    
"Connect&GO's photo system has been an important addition to our ride experience and the memories that guests create with us," said Chelsea Barteaux, Marketing and Guest Services Manager at Calaway Park. "It's a great marketing tool and makes it easy for our guests to share those memories in a tangible form with friends and family." 
Located in Alberta, Canada in the foothills of the Rocky Mountains, Calaway Park is an award-winning theme park that offers a variety of rides, live entertainment, and attractions for all ages. Since 1982 they have expanded to offer over 32 rides, 20 food locations, 24 skill-testing games and 5 attractions. With a hundred-day operating season between May and October, Calaway Park is Western Canada's largest theme park, offering family-friendly fun for everyone. 
Connect&GO's photo and video platform allows operators to turn smiles into revenue, with options for high-speed ride photography and videography, roaming photos, kiosks and more. Photos are automatically edited and displayed as guests exit the ride, and branded photos can be printed onsite within a few seconds in a souvenir frame, keychain or even a snowball, with digital copies made available to guests via QR codes. 
The video platform uses advanced ride photo technology developed over the course of 20 years by 3db, a company that Connect&GO acquired in 2021, to deliver unparalleled image quality. With over 1,500 installations around the world, the platform is used by amusement parks across the United States, Canada and Europe, and has been utilized by Calaway Park since 2009. 
"The ability to share and preserve memories is such a key part of the guest experience at theme parks today, and an amazing revenue-generating tool" said Dominic Gagnon, Connect&GO CEO. "We are proud to provide Calaway Park with high-quality ride photos that their guests can easily purchase and share." 
To learn more about Connect&GO and their photo and video platform, visit www.connectngo.com.  
About Connect&GO 
Connect&GO is a global leader in guest and attractions management technology with the most flexible and easy-to-use operations management platform for the attractions industry. Our all-in-one management platform seamlessly integrates eCommerce, point-of-sale, food & beverage, RFID access control and cashless payments using our Virtual Wallet to give you all your data in one place. We help you drive revenue and maximize guest engagement with valuable data insights all in real-time.  Connect&GO serves amusement and water parks, family entertainment centers, zoos & aquariums, festivals, and live events around the world to integrate easy-to-use wearable technology into incredible experiences. 
To learn more, visit: www.connectngo.com 
For more details, or to arrange an interview, please contact: 
Katie Reilly, Director of Marketing 
---